World Series of Poker Circuit returned to Casino de Marrakech, inside the beautiful Es Saadi Resort, three years after the last edition, and after three days of competition, the 15,000 MAD Main Event was won by Portuguese player Silvio Domingues Costa, who defeated Antony Lellouche in a three-hour heads-up battle.
Costa won the WSOPC Gold Ring, a massive reward of 2,000,000 MAD (about €180,425), and a WSOP Global Casino Championship package to compete in the Tournament of Champions in Las Vegas in June 2023. There were a total of 1,041 participants in the event, which created a prize fund of 13,585,000 MAD.
2023 WSOPC Marrakech Final Table Results
PLACE
PLAYER
COUNTRY
PRIZE (IN MAD)
PRIZE (IN EUR)
1
Silvio Domingues Costa
Portugal
DH 2,000,000
€180,423
2
Antony Lellouche
France
DH 1,450,000
€130,806
3
Hicham Mahmouki
France
DH 1,025,000
€92,466
4
Andrey Cherkashin
Russia
DH 750,000
€67,658
5
Paul-François Tedeschi
France
DH 570,000
€51,420
6
Maher Achour
Tunisia
DH 450,000
€40,595
7
Ali Habbab
Morocco
DH 370,000
€33,578
8
Waldemar Kopyl
Germany
DH 310,000
€27,965
9
Thierry Oldak
France
DH 260,000
€23,455
Final Day Events
At 1:00 p.m. on the last day, 24 participants returned, each of whom was guaranteed 60,000 MAD (€5,439) At the start of the day, German player Waldemar Kopyl was in first place, and he made it to the final table. Notable players Mohamed Mamouni, Michel Leibgorin, Rony Halimi, and Antony Teisseire all advanced to the final day but were eliminated early.
At 6.30 p.m., the final table began, and Thierry Oldak was the first to be eliminated in ninth place after he was unable to improve with tens versus queens. Waldemar Kopyl, the former chip leader, was eliminated in eighth place after losing with jacks against queens and ace-nine against ace-jack. Ali Habbab (seventh, 370,000 MAD), a native Moroccan player, was eliminated shortly after returning from dinner break, when the remaining players returned.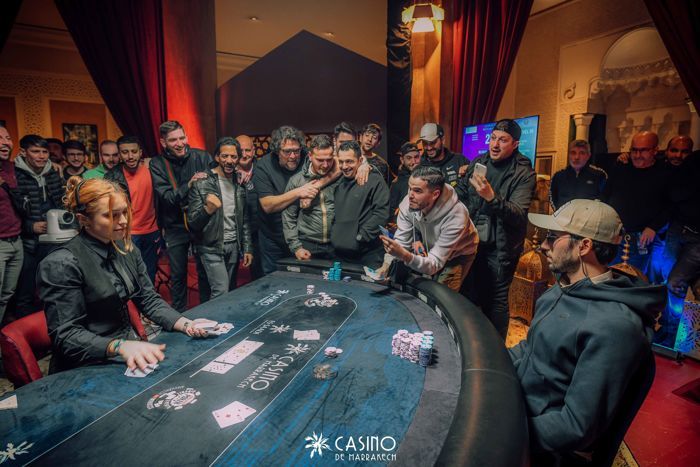 Hicham Mahmouki, who was still in contention, was a fan favorite, and a big audience assembled to see him compete. Before Corsican player Paul-Francois Tedeschi burst in fifth place, the French player eliminated Maher Achour in sixth place.
Andrey Cherkashin was shortly eliminated in fourth place, and the remaining three players fought for victory. In front of a cheering crowd, Hicham Mahmouki achieved his greatest live score by finishing third. Costa and Lellouche began heads-up play at 3:30 a.m., and after a three-hour fight, Costa emerged victorious when his ace-seven beat Lellouche's pocket sixes.
Source: www.pokernews.com